Angel & Tulane Rivera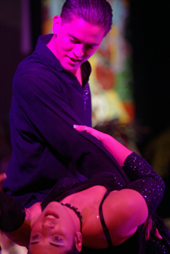 Angel and Tulane have been dancing together since January of 2001, and since then have been inseparable. Tulane was formerly Angel's dance instructor and, after a couple of months, became her dance partner. Tulane has been dancing since she was seven years old, with extensive Ballroom and Latin training from London, England. Angel started dancing at the age of 21 and brought with him passion and desire. After a couple of months this dynamic duo was formed.

After years of hard work and dedication Angel & Tulane have grown to become 2 of the most sought after Latin & Salsa dance Professionals in San Diego California. Their recent performances include: Celia Cruz, Tito Nieves, Afro Cuban All Stars, and performed at several Salsa congresses including Los Angeles & Miami & London.

They haven't stopped there! Angel & Tulane will have opened their very own Performing Arts Studio called "A Time To Dance" in 2002. As they continue to train in Afro Cuban, Mambo, Hip Hop & even Jazz they now focus on taking their dancing to the highest level and continue to choreograph & perform for their community and communities all over the world.

Their latest performance schedule included Germany, Puerto Rico, New York, San Francisco, Seattle & Palm Springs.

Angel & Tulane teach on1, Angel & Tulanes Salsa Dance Products are available in Zone Free DVD.

IMPORTANT: Angel and Tulane's DVDs are professionally produced, but they don't come packed in a fancy box with inlay.