Laura Canellias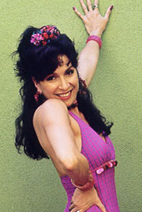 Laura has been teaching in Los Angeles, Ca, for over 12 years. She was a featured dancer in the movies "The Mambo Kings", "Out To Sea" and "Dance With Me." Her training began in Texas and covers a broad spectrum of dance from jazz, ballet, tap, C&W and ballroom to aerobics and later moved on to musical theater where she developed her skills as a stage performer and actress. She has appeared on numerous television shows & choreographed commercials for MCI, Pacific Bell, Carl's Jr. and Chevrolet. In 2000 at the World Salsa Congress in Puerto Rico, she was presented with the prestigious "Anibal Vasquez Award" for her contributions to dance. She recently developed & produced an exercise video CARDIO SALSA TM Laura is also currently a member of the eclectic performing group Salsa Confunkshon.

Laura teaches on1 and on2 and Laura's dance products are available in Zone Free DVD.


There are no products matching the selection.