Robert Cordoba & Deborah Székely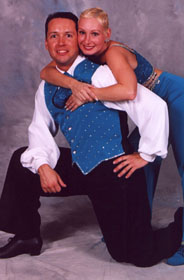 A powerful showman on the swing dance circuit, Robert Cordoba is an inventive; professional swing dancer and instructor. A five-time U.S. Open Swing Dance champion, Robert is a veteran dance competitor, first appearing on the swing dance circuit in 1990. Robert capitalizes on over 20 years of training and performing in Ballroom and Latin. He combines a powerful refined style with a wide variety of polished open and closed movements. To his credit Robert has performed in numerous shows and commercials. He along with Deborah continually travel and teach nationally as well as internationally bringing West Coast Swing to places like the U.K., the Netherlands and in 2005 New Zealand got it's first taste of top West Coast Swing dancing.
A veteran dance performer with numerous stage and production credits, Deborah Székely's (Saykay) uses high energy and power to create a unique and forceful Swing Dance performance. As a Invitational and three-time US Open swing dance champion with technique and ability accumulated and refined over 25 years of teaching and performing Ballet, Jazz and Tap and now Swing. Deborah brings a phenomenal style and presence to social and competitive West Coast Swing. Deborah's natural creative talents and years of training make her a remarkable instructor with the ability to easily relate the technique for mastering difficult moves and syncopations with ease in group and private lessons.
Robert and Deborah are presently competing and teaching together. Their partnership, established in late 1997, has produced many impressive wins with phenomenal performances. Since they have come together, they have always placed in the top six at the U.S. Open Swing Dance Championships, even when dancing injured. They were U.S.Open Showcase Division winners for 1999 and 2000 and have been the Grand Nationals Champions for Classic and Showcase for 99, 2000, 2001 and 2002. They have clinched the NASDE circuit for 4 Years in a row 1998-2001. They were undefeated in both Classic in 1999 and Showcase in 2000. Deborah Won the Champion of Champions Phoenix Invitational for 2000 and in 2003 Robert was inducted into the Dallas D.A.N.C.E. Hall of Fame. Deborah will be inducted into the Dallas D.A.N.C.E. Hall of Fame in 2006. They also had the privilege of teaching Bridget Fonda and Danny Elfman for their wedding dance in Nov. 2003. Their combined teaching styles provide an unusual and refreshing learning experience, both in a private and classroom environment. Both Robert and Deborah are enthusiastic dancers and their dance classes are enormously exciting while conveying tremendous technical information and relating their own personal experiences.

Robert & Deborah's dance products are available on Zone Free DVD.
There are no products matching the selection.