Melissa Rosado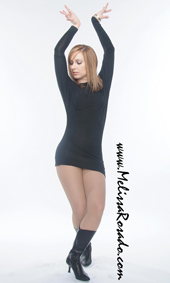 Melissa Rosado is one of the top international instructors and performers of NY Style Mambo "On 2." She is an energetic and explosive dancer who is known all around the world for her unique, sexy styling and body movement on and off the dance floor, powerful stage presence, and passionate love for teaching.
In addition, her humble attitude and welcoming personality is what makes her popular amongst the mambo community today. She has an ability to effortlessly follow any lead and is known to be one of the best examples and instructors of the Eddie Torres technique.
She has partnered Eddie Torres.

Melissa teaches on2 and her dance products are available on Zone Free DVD.