Orod & Dessy: Cubandance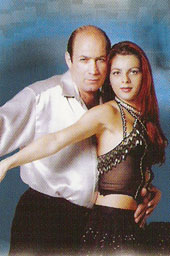 OROD
A full time Latin dance teacher since 1989, Orod is a master in Cuban Miami Salsa, Lambada, Merengue and Samba Reggae.
Having taught workshops worldwide, he decided to contribute to Salsa by creating a full set of signals, linking new steps, combinations and techniques.

DESSY
Since 1995, Dessy has been teaching and dancing Salsa, Merengue, Lambada and Argentine Tango.
As one of the first teachers to introduce women to Ladies Styling techniques in the UK, Dessy loves to expose her students to the latest fashions in addition to the traditional styles.

Orod and Dessy's dance products are available on Zone 2 (Europe) DVD.