Nuno & Vanda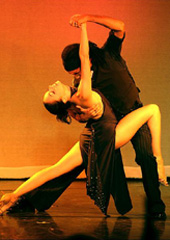 Nuno and Vanda are originally from Portugal, the county that they have been representing at the international salsa congresses and festivals. They are professional salsa dancers and teachers but they have formation in several kinds of dances, as contemporary, jazz, funk, dance, tango, etc.
Their work on salsa is based on styling, dynamic and musical interpretation.
They travelled mostly in Europe and the Midle East but they have been also in New York and Puerto Rico.
In Portugal they have their own school and a group called JDfreestyle.

Nuno & Vanda teach on1 and their dance products are available on Zone Free DVD.