Leon Rose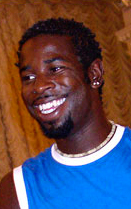 Leon Rose is one of the freshest innovators on the UK Salsa scene. His inspirational style generates enthusiasm and commitment to the art of Salsa dancing as demonstrated when he won the 2000 UK Bacardi Salsa and 2001 Salsa Club competitions. He was born and educated in London and comes from a Caribbean background where he learnt to appreciate a wide variety of good music from an early age. During these years, Leon attended The Anna Scher Theatre school, which led to many appearances on stage, popular children's shows to several televised dramas.
He has performed salsa on television and stage, from appearances with Enrique Iglesias on Top of the Pops (BBC), The Des O'Connor Show to The Royal Albert Hall in aid of Princess Diana Landmine Fund, Hackney Empire and various prestigious venues around the UK and the rest of the world. As a choreographer and Salsa instructor Leon enjoys every aspect of dancing from encouraging the novice to working with the advanced and inspiring the best. Leon has taught several workshops around Europe including some of the big festivals. His natural exuberance and Salsa spirit ensures that to see him in action - Salsa is Life.

Leon teaches on1 and his dance products are available on Zone Free DVD.

There are no products matching the selection.