SalsaCrazy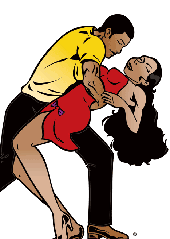 Evan Margolin, founder of SalsaCrazy.com, and a San Francisco native, went through a part of his life afraid to dance! Feeling completely uncordinated, and moderately shy, dancing was quickly overlooked in favor of career development. One night out at a salsa club changed all of his life's priorities, and opened his eyes to a world he scarcely new existed. In a theme that Mr. Margolin would later use as a rallying motif, dance changed his life goals into a far more rich, vibrant, and satisfying direction.

Evan Margolin now devotes his time fully to SalsaCrazy, spreading the same joy of dance that transformed his life. SalsaCrazy brings you a series of Beginner Learn to Salsa Dance Videos that are truly geared to teaching you how to socially dance salsa. SalsaCrazy owner, Evan Margolin, has taught tens of thousands of people to dance through his classes and events, and developed a system to teach people what they need to know, from the very start. He has created high quality, multi-angle DVD's that will take you step-by-step, through a fun and logical progression of dance moves! You'll be dancing, connected to your partner, and enjoying the music, in no time. Most importantly, anyone can do it. Each step is meticulously broken down, and articulately explained.

Mr. Margolin, came from a background of high tech, and law, and remembers well the rigors of starting to learn salsa. His products make it easy, and walk you through all your basics and fundamentals.

SalsaCrazy's products are available on Zone Free DVD.