Yvonne Laycy (form Goldsmith)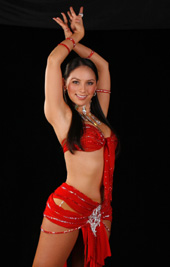 Yvonne Laycy (formerly Goldsmith-Vasquez) was born in Singapore and is of Singaporean and Australian decent. Yvonne is an accomplished performer having been entertaining audiences as a violinist and dancer since the age of 4, she is a 4 time Australian salsa champion and has also represented Australia at world competition level placing 13th in the On2 division at the World Salsa Championships in Orlando (December 2007 and in July 2007 was a semi-finalist at the Puerto Rico World Salsa Open. Her music and dance background has allowed her to travel across the world to Italy, Japan, England, Switzerland, Singapore, USA, New Zealand, Puerto Rico, France, Belgium, Holland and all around Australia. She has also made various apperances on televsion, magazines and newspapers both international and nationally.
Yvonne also judges dance competitions and is one of Australia's most well recognised salsa dancer with training in Jazz/Funk, Salsa (On1 & On 2), Samba, Zouk, Bachata, Classical Ballet, Street Cha Cha, Merengue, Lambada, Gymnastics and Pilates. Yvonne is known for her fire, energy, attitude and sexy ladies styling. She is also known for her ability to break down technique in detail.
Yvonne is a TV presenter in Australia hosting one of Australia's top 40 rated shows. Here she shares her great love of street latin dance and music with the Australian and New Zealand public showcasing some of the world's greatest street latin dancers. Through her hosting of Dance Alive, Yvonne was nominated for an Antenna Award for Best Female TV Presenter in 2008.
Yvonne teaches on1 and on2, her dance products are available on Zone 1 (US) and Zone 2 (Europe) DVD
See this instructor in action!
:
Click here for a free clip