Seaon 'Stylist'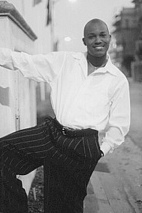 Seaon had been a recognized dancer/performer in New York for a number of years, dancing with the renowned RazzMTazz dance company, but when he won a major dance competition in Los Angeles, with a guy as his partner, he rocked the US salsa world. Shortly thereafter he moved from New York to Los Angeles to start a new life as an instructor and choreographer for his own dance company.

Seaon teaches on2 and Seaon's videos are available in Zone Free DVD.


IMPORTANT: Seaons DVDs are produced on a small scale, they don't come packed in a fancy box with inlay. Seaon states that the contents is more important than the packaging.