MasSalsaBrava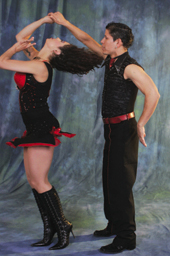 Luis Vazquez and Melissa Fernandez spreading the passion of Salsa throughout the world.
Established in Los Angeles, California, Luis Vazquez began dancing in 1992. He is one of the Salsa pioneers and co-director of the first Salsa Dance Company in Los Angeles, Salsa Brava.
Together, Luis and Melissa have travelled to more than 40 countries and they continue to play an inspirational role in the Salsa Community, sharing their passion for Latin Dance, teaching people how to dance one step at a time.
Mas Salsa Brava, bringing more energy, more passion, more flavor while combining the traditional with the innovative.
Revitalizing the Salsa Revolution!

MasSalsaBrava teaches on1 and their dance products are available on Zone Free DVD.