Pura Salsa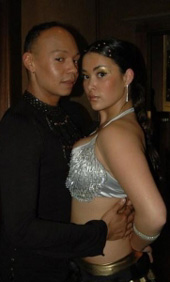 A teacher, dancer and choreographer. Definitely one of the finest Salsa figures in Holland. He has a unique style combining smoothness, technicality and elegance. Especially when he adds his personal touch to the mambo style,the Rotation Style.
Raul started as a Martial Arts fanatic. After 10 years of study, he rightfully earned his black belt in Judo. Striving to excell beyond Martial Arts, he came in touch with Salsa at an early age. He was inspired by his first teacher, the great and well respected Pappie Klein.
His skills as an instructor are high on demand. A method that he has been developing for over 10 years now. His lessons are up to date, innovative, pleasure oriented and have a high educational value.
Raul has proudly earned the respect and appreciation of many. He is currently working with the best dance companies in Europe, and has been contributing a lot to promote the Mambo on2 style in Holland.
"Purasalsa Productions is becoming a hot item at this moment. We are asked to teach and perform at some of the biggest national and international Salsa congresses and events. It is like a dream come true. We have been working hard to achieve this goal. The road is long and hard but I'm confident that we will get there. We inspire a lot of people and we are going to continually."

Pura Salsa teaches Salsa on2 and Bachata, their dance products are available on Zone 2 DVD.


There are no products matching the selection.