Loco Amor Prod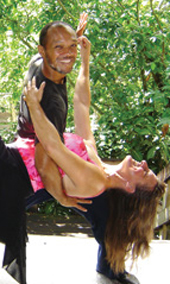 Cathy Calderon
Cathy is a great lover of Latin music and dance, and as one of the original Eddie Torres dancers, danced at the Apollo Theatre with Tito Puente and Celia Cruz. She is a salsa/mambo dance teacher, as well as a film and theatre director/producer, and registered yoga teacher. Her passion for dance and theatre brings a special vibrancy and spontaneity to her teaching. Cathy has studied extensively in many traditions, including Tantra Yoga, the Chakra system, Taoist Healing practices, Rumba, Modern, Jazz and Ballet Dance, and she enjoys weaving many of the wonderful practices from these traditions into her classes, both dance & yoga. She has produced and directed several documentary films, including "A Bailar!" about Latin dance and the early years of the Godfather of Mambo, Eddie Torres, which was shown on PBS and sold to many television networks around the world.
Paul Calderon
Paul Calderon is an Obie Award-winning actor and accomplished writer of plays, screenplays, short stories and novels, as well as a long-time Tai Chi and yoga practitioner. He has starred in numerous productions at the Public Theatre and New York Shakespeare Festival, co-starred with Robert DeNiro on Broadway in "Cuba & His Teddy Bear," and has had leading and co-starring roles in dozens of major films. He has taught acting and writing for ten years, and is on the faculty of the NYU and The Lee Strassburg Institute. Paul is a certified yoga teacher in the Anusara tradition. Paul enjoys exploring ways to bring all of his various talents and experience together in order to help people develop their own unique creativity. Like his wife, Paul was also one of the original Eddie Torres dancers, dancing at the Apollo Theatre with Tito Puente and Celia Cruz, Madison Square Garden with El Gran Combo, and at other venues with many of the top Latin artists.

Pupy is one of the world's greatest Rumba and Afro Cuban dancers. For many years, a lead dancer with the legendary 'Yoruba Andabo' in Havana, Cuba, he inspired and trained a whole generation of young Cuban dancers and drummers. For the past ten years he has been spreading his love for his culture world-wide, in workshops in the US, Brazil, Italy, Russia and more! Wtih great passion and a wild sense of humor, he invites us to taste the magic of the Rumba!

Loco Amor's dance products are available on Zone 1 (US) DVD.


There are no products matching the selection.