SalsaMania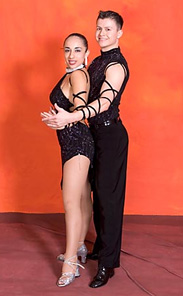 John Narvaez and Liz Rojas are world-class ground-breaking Salsa dance artists and directors of the Salsamania Dance Company, which they founded in 2000. They're story tells us of how a dream, fueled by passion and focus can change lives. Salsamania is a non-profit corporation with a mission to develop the best training programs and performance teams in the world. The company is based in the San Francisco, Bay Area.
As a powerful force in the industry, John and Liz in just five short years have proven themselves to be equally effective on the business, as well as creative side. They are among the most accomplished competitive Salsa dance couples in the world, having also taken their company – which includes both the Salsamania, professional team; and Son De Mania, semi-professional team to the top of the world's Mambo dance scene. Having won numerous accolades for their many achievements, Salsamania is highly visible as a current top ranking champion of the 2005 World Salsa Championships.


SalsaMania's dance products are available in Zone Free DVD.

IMPORTANT: John and Liz make their own DVDs, they come with a simple printed paper label, in a proper dvd box with inlay.


There are no products matching the selection.