Dirty Salsa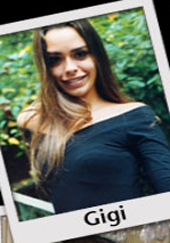 The Face of Dirty Salsa is Gigi.

Gigi started dancing when she was 15. While working with Debbie Ohanian at The Club Starfish in Miami, she was discovered by the famous Salsa Dancer Omar Caraballo of Salsa Connections. Under Mr. Caraballo's tutelage Gigi blossomed into a vivacious professional Salsa dancer. Even at the age of 16, she well been known throughout Miami as a top Salsa Instructor for her detailed method of instruction. Most of her students are top dancers and Salsa instructors themselves.

Dirty Salsa's Gigi teaches on1 and the dance products are available on Zone Free DVD.