Tenia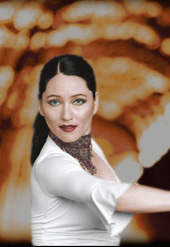 Tenia is a passionate performer, instructor and choreographer of Salsa dance. Known for her feminine and sexy styling, she has taught thousands of students her graceful, stylized, and passionate approach to dance.

In 1997, Tenia and her partner won First Place in the World Famous Mayan Amateur Salsa Competition. In 1998, she established Los Angeles' first All-Female performance group, Stiletto Salsa, for which she served as Director and Choreographer. She danced in television and commercials and in 1998, was featured in the motion picture, "Dance With Me", starring Vanessa Williams and Chayenne as well as "Hard Time" with Burt Reynolds. She has performed with many musicians and artists, including Poncho Sanchez, Robert Palmer, and the late Tito Puente.

In 2001, she produced her own Instructional Videos (Learn To Salsa Vol. I An Instructional Guide for Beginners and Learn To Salsa Vol. 2 A Sexy and Stylish Approach to Intermediate/Advanced Dancing). Raul Santiago co-instructs in both videos, which feature music and an appearance by Johnny Martinez.

Tenia's power and allure as a dancer transfix not only her peers but her students, and she holds some of L.A.'s largest classes, instructing a room of 150 with ease and grace. Her love for teaching and for her students create a highly effective and energetic learning environment.

Tenia teaches on1 and her Salsa Dance products are available on Zone Free DVD.