Troy & Jorjet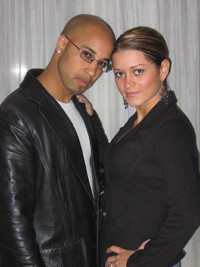 Troy and Jorjet are extremely appealing and popular in the dance world. They are a complete package and have been featured globally in: Belgium, Bermuda, Canada, Curacao, Dominican Republic, France, Germany, Holland, India, Ireland, Israel, Italy, Japan, Mexico, Philippines, Puerto Rico, Spain, United Kingdom, Venezuela and all over the United States.

Troy and Jorjet teach Dominican Bachata and Salsa.

Jorjet Alcocer – is the possibly most versatile dancer on the planet. Jorjet's natural style amazes her onlookers and has given her enormous respect from the dance elite. Other dances (Tango, WC Swing, Hustle, Two Step, Waltz etc....).

Troy Anthony – has been a premier Dancer, Teacher, Performer, Promoter, and Emcee for several years. Troy has an uncanny knack of entertaining the crowd as an emcee or in his social rally. He has helped change the face of the scene with the discovery of many top talents.

Troj teaches Salsa on1 and on2 and their DVDs are available in Zone Free DVD.